A Fast, Simple, Capillary Blood Analyser
Allegro is a compact, point-of-care (POC) analyser that features a clinically important menu of 8 measured and individually selectable tests, plus 6 calculated tests. All tests are measured with disposable, ready-to-use cartridges or test strips, and are easily performed by non-technical personnel.
Capillary fingerstick sampling for all blood tests eliminates the need for venipunctures and a trained phlebotomist. Allegro's
6-to-9.5 minute cartridge test times and ability to measure 2 cartridges simultaneously provide rapid results. Having results available during the patient visit–not after–makes the patient/clinician meeting more effective; reduces office calls, letters, and follow-up visits; and improves patient compliance with care recommendations.
A comprehensive test menu for monitoring glycaemic control and diabetes risk factors
Allegro provides a comprehensive test menu to monitor the effectiveness of glycaemic control, assess the risk or progression of diabetes complications, and make therapeutic adjustments for patients.
| | | |
| --- | --- | --- |
| Glycaemic Control | Kidney Function | Lipids/Cardiac Risk |
| HbA1c | Blood Creatinine | Total Cholesterol |
| Glucose | eGFR | HDL Cholesterol |
| Estimated avg. Glu | Urine Creatinine | Cholesterol/HDL Ratio |
| | Urine Albumin | Non-HDL Cholesterol |
| | Albumin/Creatinine Ratio | LDL Cholesterol |
| | | Triglycerides |
All blood tests performed with capillary fingerstick samples
Capillary sampling is easily performed by staff members, eliminating the need for venipunctures, trained phlebotomists, and blood drawing tubes and needles. Allegro's small blood samples make capillary testing virtually painless for the patient.
Tests Available from Capillary
Fingerstick Samples
Tests Available from
Urine Samples
HbA1c
Urine Creatinine
Lipids Panel
Urine Albumin
Blood Glucose
Albumin/Creatinine Ratio
Blood Creatinine
Cartridge tests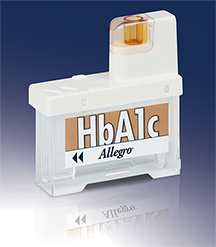 HbA1c 6-Minute Assay
Measures: HbA1c
Calculates: estimated average glucose
Sample Volume: 1.5 μL capillary blood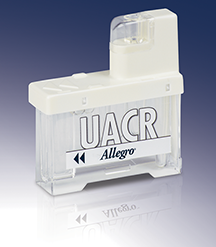 Urine Albumin/Creatinine 6.5-Minute Assay
Measures: urine albumin and urine creatinine
Calculates: albumin/creatinine ratio
Sample Volume: 25 μL urine
Lipids 9.5-Minute Assay
Measures: total cholesterol, HDL cholesterol, triglycerides
Calculates: LDL cholesterol, non-HDL cholesterol,
cholesterol/HDL ratio
Sample Volume: 5 μL capillary blood
Easy-to-use analyser
Simple Testing Procedure
Allegro's simple testing procedures are easily performed in minutes. An onboard barcode scanner eliminates manual entry of patient ID and cartridge test assay information. Allegro's automation allows the user to perform other clinic-related duties while the sample is analysed. When analysis is completed, the results are automatically printed and stored in the Allegro database and transmitted to the electronic medical record (EMR) for clinician viewing.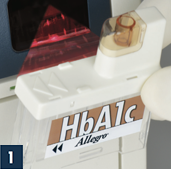 Scan cartridge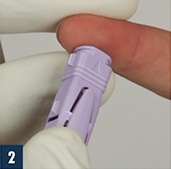 Perform fingerstick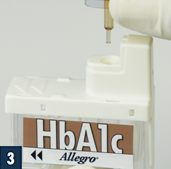 Remove capillary sampler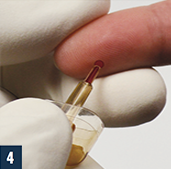 Touch sampler to blood drop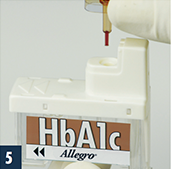 Replace capillary sampler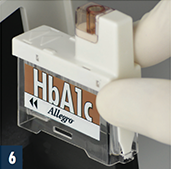 Insert cartridge and press "Analyze"
Meter and Strip Testing Steps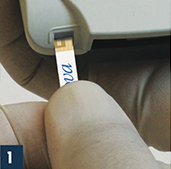 Insert test strip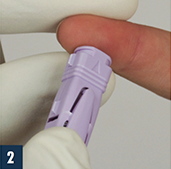 Perform fingerstick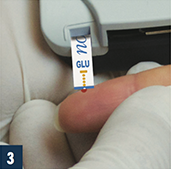 Touch strip to blood drop
Connects to electronic medical records
Results are instantly transmitted to the EMR by industry standard HL7 and POCT1A-2 interfacing for clinician retrieval. Results and trend data are also stored on the analyser and can be accessed immediately from the Allegro database.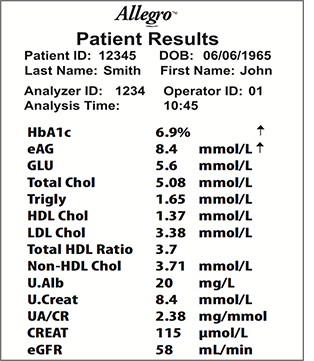 Results Printout
Allegro transmits patient results to the medical records system and also produces an
immediate printout.

Patient Trend Report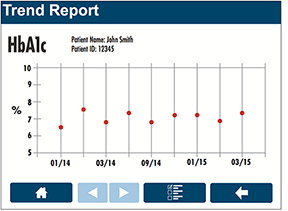 Allegro provides on-screen and printed trend reports for patient values.
The last 9 results for the patient are presented as a trend graph.
Onboard Storage of Patient Results
Allegro stores a virtually unlimited number of patient results on board the analyser. These results can be recalled from the Allegro database for review, printing, or transmitting to an EMR.
Point-of-care testing saves time and reduces costs

Simplifies Workflow
Testing for HbA1c, glucose, lipids, and kidney function is commonly required for people with diabetes during primary care visits. Allegro's test menu and capillary blood sampling allows clinicians to have these tests available during the patient visit. This eliminates numerous follow-up calls and visits and creates significant cost savings.
• Eliminates the need for follow-up patient contact with blood test results.
• Eliminates scheduling and conducting another visit if theresults indicate a need for therapy changes.
• Eliminates follow up with non-compliant patients who do not obtain their laboratory blood tests.
Reduces Costs
Re-contacting patients with blood test results and rescheduling another visit creates significant work for a primary care clinic.
Physical Specifications:
Width: 20.32 cm (8 in)
Height: 35.6 cm (14in)
Depth: 38.1 cm (15in)
Weight: 10.43 kg (23lb)

Electrical Power Requirements:
90-264 VAC, 50/60 Hz

Interfaces:
ASTM Protocol, via serial RS232 TCP/IP, POCT1-A2, HL7

Printer:
Built-in thermal

FDA Labeling:
For in-vitro diagnostic use, pending FDA clearance

CE Marked
StatStrip A Meter Specifications
| | |
| --- | --- |
| Test Menu: | Methodology: |
| Glucose | Electrochemistry |
| Blood Creatinine | Electrochemistry |

Measurement Ranges:
Glucose
0.5 - 33.3 mmol/L
(10 - 600 mg/dL)
Blood Creatinine
27 - 1056 μmol/L
(0.3 - 12.0 mg/dL)

Calculated Tests:
Estimated glomerular filtration rate
Sample Sizes
:
| | |
| --- | --- |
| Glucose Test Strip | 1.2 μL |
| Creatinine Test Strip | 1.2 μL |

Sample Time:
| | |
| --- | --- |
| Glucose | 6 sec |
| Creatinine | 30 sec |

Physical Specifications:
Weight: 220 g (0.49 lb)
Size: 147 mm x 79 mm x 30 mm
(5.8 in x 3.1 in x 1.18 in)
Meter Data Storage:
| | |
| --- | --- |
| Patient Tests | 1,000 Tests |
| QC Tests | 200 Tests |
| Users | 4,000 Users |

Connectivity:
Data Output: RJ-45 Ethernet Port
Protocol: TCP/IP Ethernet 100 Mbit
Standard: POCT1-A2 Compliant