StatStrip® and StatStrip Xpress®2 Glucose Meters


StatStrip Glucose Hospital Meter System Receives FDA Clearance for Capillary Testing with Critically Ill Patients
Only glucose meters with FDA clearance for use with ALL patients including critically ill
CLIA waived for use with arterial, venous, and capillary samples from critically ill patients

ONLY glucose meter with no known clinical interferences—over 8,000 medications tested
Measures and corrects for interferences, which cause incorrect glucose results in other meters and patient mismanagement
Proven safety and accuracy
In one study of over 17,300 capillary results from critically ill patients that were compared to lab results
In another study of 1,698 arterial and venous results from critically ill patients with over 257 medical conditions were compared to lab results
Improved accuracy results in less insulin misdosing and better outcomes for critically ill patients
Use of any other meter with critically ill patients is considered off label by the FDA and high complexity testing under CLIA
Use of any other glucose meter with critically ill patients is off label
StatStrip is FDA cleared and CLIA waived for use throughout all hospital and all professional healthcare settings including critical care. Use of any other glucose meter with critically ill patients is considered off-label by the FDA and high complexity testing under CLIA.
The personnel testing requirements for off-label use are very demanding and limit who can perform testing. In addition, a hospital must obtain patient consent to perform off-label testing.
The most extensively studied and proven glucose measurement technology
In addition to the studies submitted to the FDA, 168 other independent studies over the last eight years—including 53 critical care studies—have found no clinically significant interferences for StatStrip. This is a statement that no other glucose meter manufacturer can make. Download a bibliography of publications here
Learn more
To learn more about how StatStrip can help hospitals avoid the risk of glucose meter off-label use and bring critical care testing to the bedside, call Nova at 800-458-5813, or contact us here
For more general product information, click here or contact Nova Biomedical at:
Nova Biomedical / 200 Prospect Street / Waltham, MA 02454 / 781-894-0800
Specifications
StatStrip Glucose Connectivity Meter
Dimensions:
Weight: 0.49 lb (220 g)
Size: 5.8 in x 3.1 in x 1.18 in
(147 mm x 79 mm x 30 mm)

Data Storage:
Patient Tests: 1,000 tests
QC Tests: 200 tests
Users: 8,000 users

Connectivity:
Meter Data Output: RJ-45 Ethernet Port
Protocol: TCP/IP Ethernet 10 Mbit
Standard: POCT1-A2 Compliant
Setup Program: NovaNet™ Web-Based Instrument Manager Software

Battery Information:
Type: 3.7V Li Polymer Rechargeable Battery
Features: Rechargeable/Replaceable
Life: 6-8 hours in use (approximately 40 tests w/barcode scans)/12-24 hours standby

Docking Station:
Optional accessory; desk or wall mount charging station with RJ-45 Ethernet jack. 3 LED indicator lights showing connection status, transmit/receive data, and charging status. Extra battery slot included for recharging and storage of spare battery.
Additional Features:
Color touchscreen
Built-in barcode scanner
Traditional QC with target values assigned to QC materials
Numeric or pass/fail QC
QC prompting or QC lock out
Abnormal and critical ranges flagged by color highlighting
Canned or free text user comments
Reject results at meter (optional) for repeat testing
Accept patient ID or accession number
Use of operator password (lockout)
Entry of offline tests
Entry of ICD-9 diagnosis codes
Order physician ID
Onscreen training mode
Correlation mode
Slope and intercept adjustment
Web-based meter configuration by location
Custom meter configuration by medical unit
Connect to hospital ADT
Connect to all LIS/EMR
POCT1-A2 data output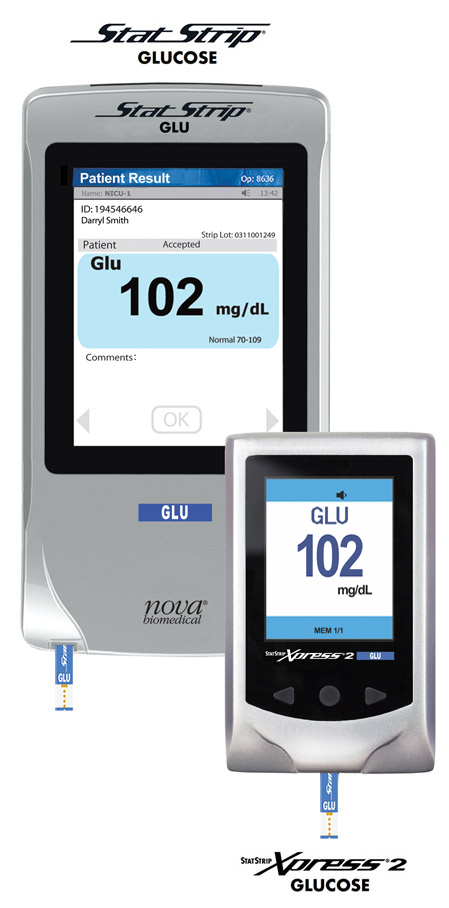 StatStrip Xpress2 Glucose Meter
Designed for applications that do not need data interfacing and connectivity, Xpress2 Glucose retains all of the analytical performance features of StatStrip Glucose.
Dimensions:
Weight: 2.77 oz (78.5 g)
Size: 3.9 in x 2.4 in x 0.9 in
(98 mm x 61 mm x 22.9 mm)

Data Storage:
Patient & QC Tests: 400 tests total (FIFO)

Connectivity:
Data Transfer: Strip Port Connection to USB
Data Program: Nova Microsoft-Excel based data transfer software

Battery Information:
Type: 2x 1.5V AAA Battery
Features: Replaceable
Life: Minimum 600 tests

Additional Features:

LCD color display
Large numeric display (30 mm)
Traditional QC with target values assigned to QC materials
Units of measure based on meter ordered (mg/dl or mmol/L models)
Automatic shut-off when not in use
Automatic sample detection and analysis
Automatic sample counter with date/time stamp for data tracking

StatStrip Glucose Test Strips
Tests:
Tests Measured: Glucose and Hematocrit
Test Reported: Glucose
Test Time: 6 Seconds
Test Strip Volume: 1.2 µL
Test Methodology: Electrochemistry

Sample Types & Operating Modes:
Whole Blood: Arterial, Venous, Capillary, Neonatal

Glucose Measurement Range: 10-600 mg/dL (0.6-33.3 mmol/L)

Interferences (Measured and Corrected for):
Hematocrit, Ascorbic Acid, Uric Acid, Acetaminophen (Paracetamol), Bilirubin, Maltose, Galactose, Oxygen

Operating Ranges:
Temperature: 15°C- 40°C (59°F-104°F)
Altitude: Up to 15,000 feet
Humidity: 10% to 90% relative humidity

Reagents and Strips:
Strips: Cases of 36 vials (1,800 strips); vials packaged 50 strips/vial
QC: Three levels (Low, Normal, High); sold separately
Linearity: Five levels available

Test Strip Stability:
24 months from date of manufacturing in USA
180-day open-vial stability

QC Stability:
24 months from date of manufacturing
90-day open-vial stability

Certifications and Compliance: Nova Biomedical is certified to FDA Quality System Regulations and EN ISO 13485:2016 Complies to IVDD Tested according to: EN 61010-1:2010, EN 61010-2-101:2015, EN 60825-1/A1:2014.
CSA Standards. Patented Technology. Patents 6,287,451 / 6,837,976 / EP 1 212 609 / CA 2,375,092 / EP 1497 449 / JP 405 0078
Specifications current as of revision date.